What's life really without having a few people you can spoil. And you only do it well if you spoil them silly.
If these lucky few happen to be yoga lovers, shopping for them can be super fun. Here are the next best things after levitation, a soundproofed mind, and spending one whole minute in crow pose.
Yoga Coasters for the 'spiritually' uplifted yoga lover 
These cute, fun coasters can bring some cheer back to otherwise prudish wine nights. Made of solid and sustainable wood, these are the perfect things if you want to add value and some color to a yogi's life.
They are also easy to wipe clean and the wood never warps. The lucky recipient will sure owe you a drink. Salut!
Boss Babe Yoga Bag carry everything you need
 Lightweight, super spacious, and very sexy, this yoga bag is an ideal choice if you are looking for something that combines utility and chic. And if this yoga enthusiast has loyalties divided, the boss babe yoga bag can also be taken along to the gym, beach, travel, you name it.
 To add to its charms is the fact that it is made from 100% eco-friendly cotton canvas. Who wants to add more plastic to the world? Don't we have enough and more of that already. Phew! 
"Naked Yoga" by Alo Yoga
 This book deserves a place on every yoga lover's bookshelf. Gifting this 343-page oversized hardcover coffee-table book might just earn you this year's best gift-giver award.
 Now from the horse's mouth: "Naked Yoga" is the book that will redefine how you see yoga—the artistry of each asana, whether familiar or pushing the boundaries of what is even possible, paired with the grace and physicality brought by every yogi's unique expression of their practice. Alo's mission is to bring yoga to the world and awaken people to the power of yoga, and what better way than to strip nine yogis' practices down to their most elemental state.
Eye pillows for the best relaxation ever
If you have a yoga lover in your life who goes through the whole grind just to earn ten minutes of savasana, you know what to get them. These are the most amazing things in the world to help you relax, block light out, and rejuvenate tired eyes. 
Made from premium cotton fabric, these are filled with organic linseed to provide therapeutic pressure to eyes and make for excellent props for the most relaxing pranayama session.  
Such are the simple joys of life!
Downward Dog gift box for the cacao lover
The name does give it away. They say that this box is dedicated to the two siblings Yoga and Ayurveda.
These very desirable chocolates are a blend of ethically sourced cacao and herbs inspired by Ayurveda – an ancient science of healing. They are free from dairy, refined sugar, soy, emulsifiers, and anything artificial. To add to the goodness, they are sweetened with locally sourced raw honey. 
You want to keep these for yourself, don't you?
Yoga Retreat at Home Gift Set
This one should come with a warning – please give this as a gift only if you agree for the recipient to be greatly and overwhelmingly pampered.
The gift box has everything one needs to create a blissful experience at home. There is a milk bath soak, a muscle fitness arnica balm, mat and equipment cleansing wipes, balancing lotion for dry skin, yoga mat sanitizing spray cleanser, and a yoga elixir calming spray.
Just go for it!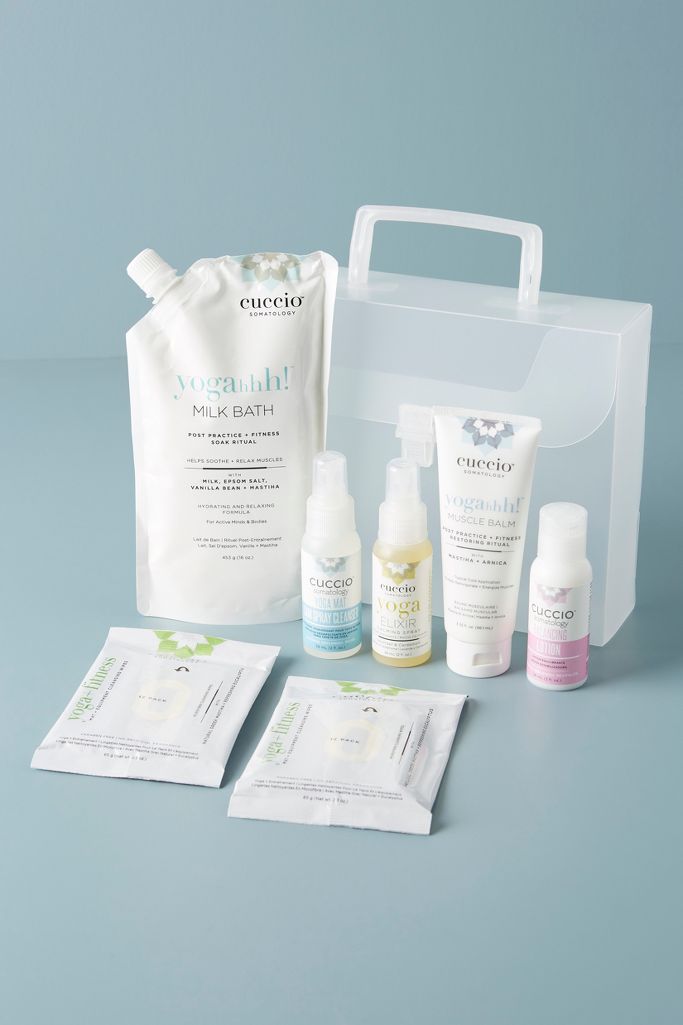 The Takeaway
Yes, gifting all of the above to yourself constitutes self-love. You can go guilt free about that.
But remember, in all of this, that yoga is the ultimate gift. It is the gift that keeps giving. So, do your think at the mat babes, like you do.